Myths
NOTE FROM THE WEBMASTER:
This is all information submitted by and compiled from sources all around Exenia and the Net! I do not claim to propogate nor promote any of the rumors listed here; this is far out of my realm of expertise. I play the game, I don't break it! :-[
Submitted by Maerwynn:
I heard that if you manage to clear one of the glitch dungeons you get a new quest!!! My friend who is in the [EEE] guild has a friend in the guild who cleared one of them and now they have a completely unique one. They can't figure out what to do with it yet though :( I can't test it out myself because the glitched dungeons are like, totally unfair. The enemies are so messed up you can't even see them and they do so much damage the game can't even display it right!!!
Submitted by G4M535:
THE NEW DUNGEONS ARE AN INVASION FROM CYEBRSPACE THE CHINESE ARE FINALLY HERE TO TAKE OVER AND BEGIN THE FIFTH OR FOUTH CORP WAR!!!! DO NOT JACK IN WITHOUT PROTECTIVE ICE RUNNING!!! DO NOT JACK IN AT ALL!!! IF YOU DIE IN THE GAME YOU DIE IN REAL LIFE!!! IF YOU DIE IN REAL LIFE YOU DIE IN THE GAME
Submitted by J8kn:
Anyone else's cybernetics start acting weird ever since the game started bugging out? I've had to get my implants tightened up three different times since the game started messing up. Think this is a sign I should finally quit.
(Webmaster's note: as somebody with dual upper-extremity prosthesis I haven't noticed anything wrong. -Ulna)
Submitted by Kaito:
I guess if anybody is going to actually document what's going on in Exenia it might as well be me. For the past few months randomly-generated, completely corrupted dungeons and areas have been appearing at random every time the server restarts. Everything in there is totally messed up, random polygon meshes going everywhere, unnavigatable design and architecture, unkillable enemies, the works. The loot the enemies drop is insanely overpowered (I saw a dragoon get a gunlance that did 1xe3.53646349 damage per attack) which makes it easier to handle if you can get your hands on one, but good luck. Only two people have managed to clear a dungeon so far, but it didn't seem to go anywhere besides giving them a garbled quest.
I did take some screenshots, though: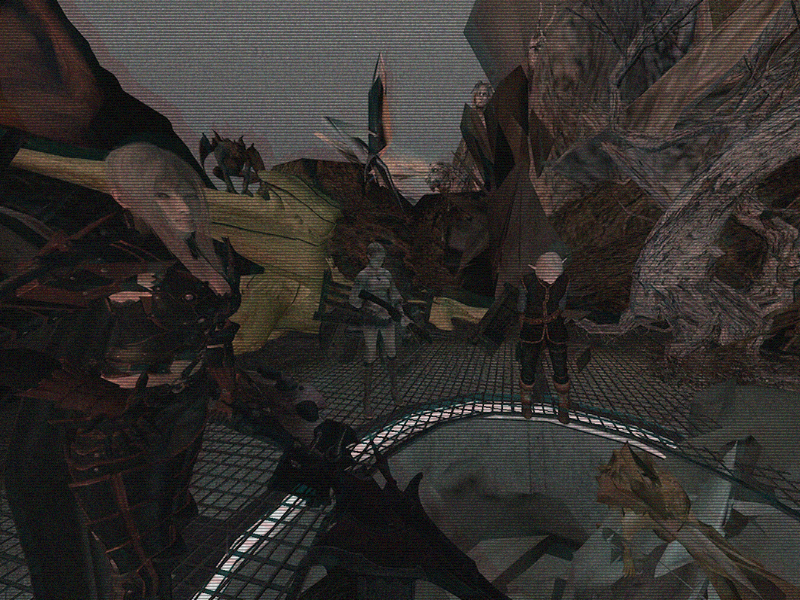 Some members of [EEE] preparing to jump into a massive hole in the ground where a dungeon spawned. Note the corrupted terrain and props where they couldn't have been; we got some kind of weird digital rain later that felt like static on our skin.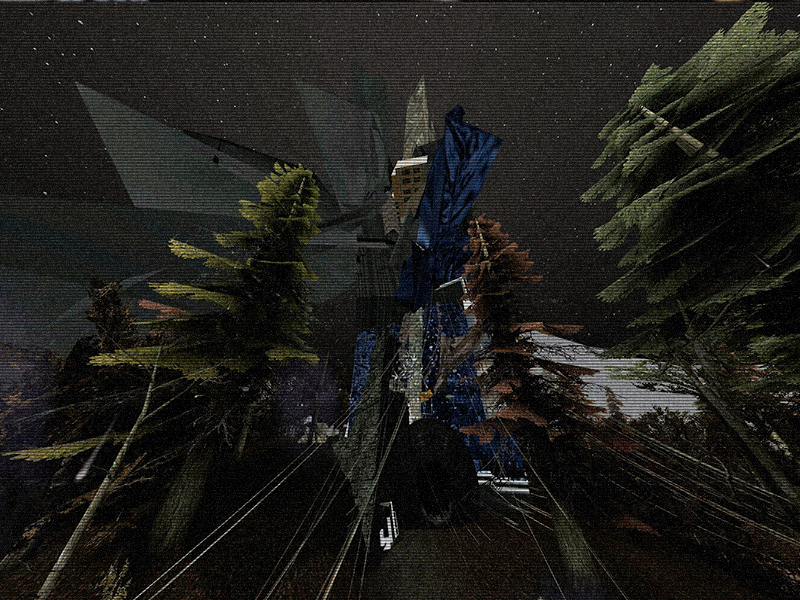 Up close and personal screenshot of "the tower," one of the only dungeons that anybody managed to clear. I think C3L and VE7 did this one. You can't really tell in this screenshot but the top of the tower actually goes past the skybox and clips through the game world entirely, it was pretty insane. My computer lagged just looking at this thing.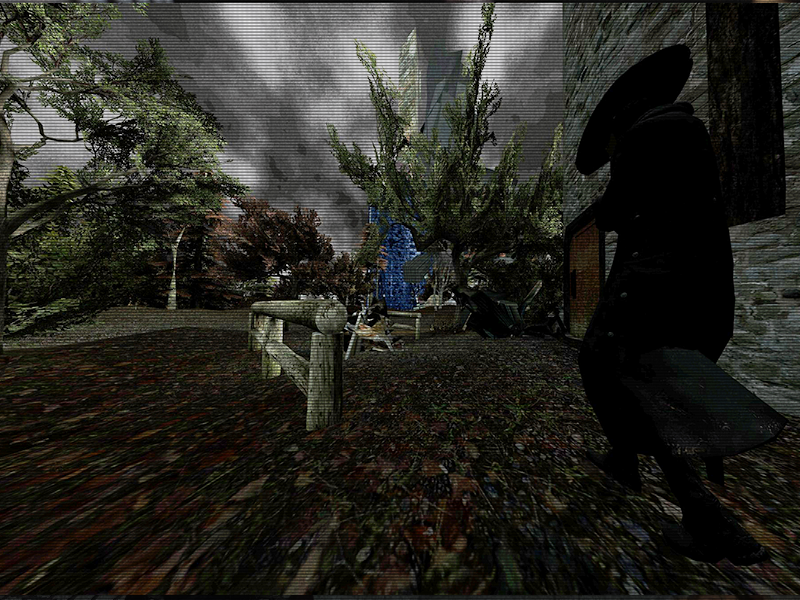 Peasant NPC in Arcsa doing his daily rounds just behind "the tower." The NPCs act like nothing ever happened and continued on as normal. Honestly if not for the big glitch tower in the distance you'd be hard pressed to tell anything was wrong in this screenshot, Arcsa is usually pretty empty and eerie these days anyway.